Swipe Right & Repeat: Your Go-To How-To For Our Cult-Favorite Serum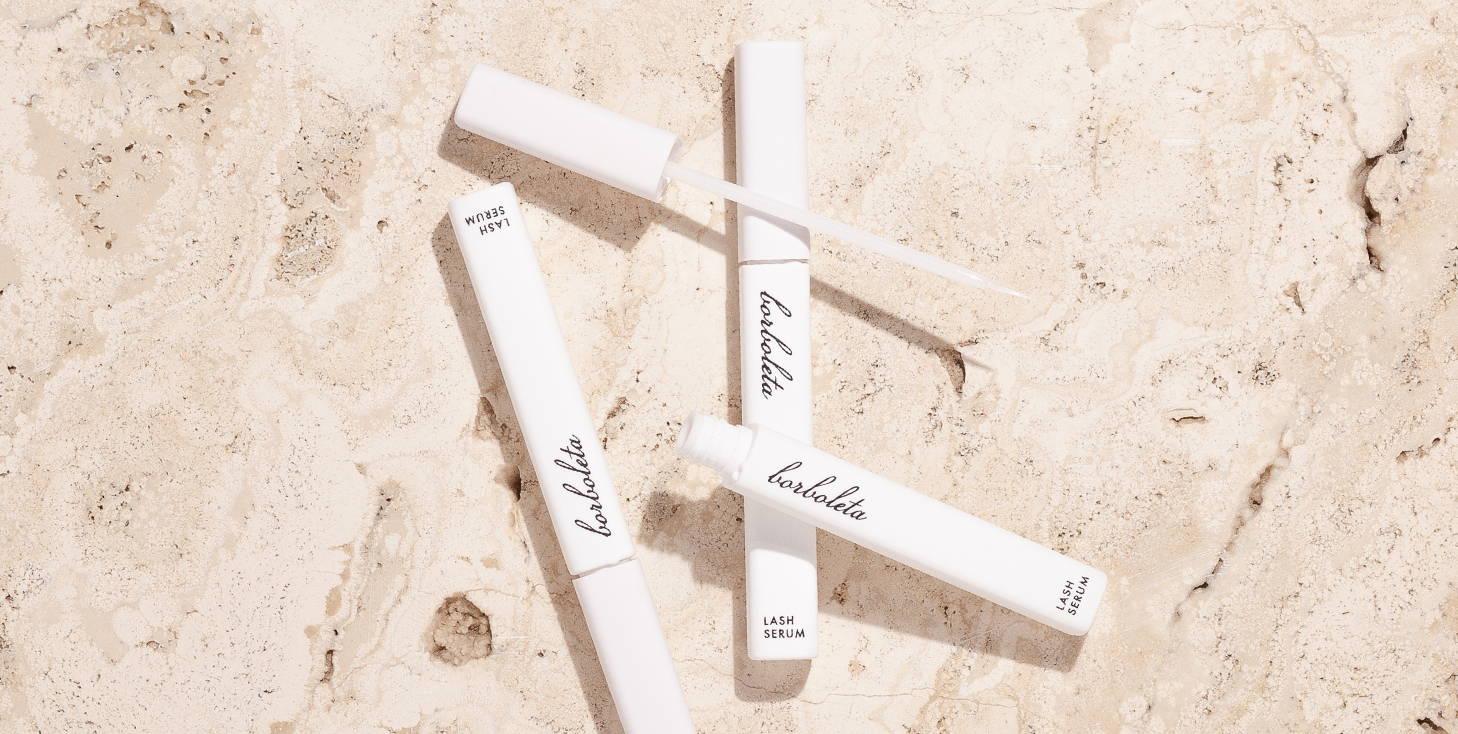 We like to think that lash nirvana is just on the other side of one bottle of our cult-favorite Serum, so we've broken down our go-to guide for proper serum usage to help you and your lashes reach cloud nine.
---
You've seen the insane Borboleta Lash Serum before and after photos, and rave reviews—and now you're ready to join the obsession. Luckily, show-stopping results are an easy 3-steps away. So read on—your future lashes will thank you!
Document the Journey
First thing is first — a before photo! Proper serum usage starts off with setting yourself up to properly love the results. We all know all good things take time, and lash serum is no different. Taking a before photo is a great way to document your lash journey, and capture your flutter-worthy progress!
Dip. Swipe. Repeat
Application is everything! Our serum has been called liquid lash gold, and we were obsessive when it came to developing a brush that was the custom length, thickness and fiber type to lay down the perfect amount for killer results. Just dip, swipe across one lash line, dip again, and swipe on the other side. No need to mess with the lower lash line, when you blink there will be enough transfer to see great results on those little babies too.
When it comes to the best time to use, we love a nighttime application on clean, dry skin. Give it 90 seconds before applying anything else to the eye area and you'll be good to go! If you choose to apply Lash Serum in the morning, be sure that it is on a clean, dry lash line, and wait until the serum completely dries before applying anything else to the eye area or lash line.
Be Consistent
If you remember just one thing—apply serum Every. Single. Night. Religious use is the quickest route to getting the lashes of your dreams. So leave it on your nightstand, set a phone reminder, keep it next to your face serum, or put it in your toothbrush holder—whatever it takes to work the Lash Serum into your daily routine. Of course, we also know life happens. If you happen to forget to apply your daily dose of serum (we've all been there!), don't panic or double up—just get back on track the next day.
Still have questions? Check out our FAQs below or reach out to our support team here.
FAQS
What makes our serum such a powerhouse? The motherlode of ingredients! We spent years fine-tuning and perfecting this exclusive formula until it featured everything you want and absolutely nothing you don't. Each premium ingredient was hand-picked for its lash-loving qualities—like keratin, biotin and peptides for strength; plant based stem cells for vitality; and pumpkin seed extract to plump. Together, these ingredients go to work to condition and nourish the lash line and help your lashes appear darker, fuller, and healthier than ever!
Can I use the serum with a lash lift or extensions? We love lash play, and formulated with this in mind! Our serum will not interfere with either of these treatments. Some of our favorite lash dream success stories come from customers who use our product to maximize the look of a lift or extensions.
Has this product been tested for safety? Absolutely! This cruelty-free formula is ophthalmologist approved and has been through an extensive panel of safety testing for eyes and skin.
What happens if I stop using the serum? In the highly unlikely event that you want to stop using the serum (why would you!?), your lashes will look just like they did before use. In the much more likely scenario where you are obsessed with maintaining lush and long-looking lashes, simply continue with daily use.